---
By
Eyal Hareuveni
American saxophonist and trumpeter legend Joe McPhee met by chance French guitarist Raymond Boni and sound engineer and analog synthesizer explorer Jean Marc Foussat at the American Center in Paris in 1975. McPhee was enjoying, at that time a timely, a justified acknowledgment of his creative powers in Europe. During the same year, Werner X. Uehlinger founded the Swiss label Hat Hut, also after a chance meeting with McPhee, with a declared goal of documenting his work.
This meeting of McPhee with Boni and Foussat led to a long and deep friendship between these unique musicians. McPhee kept playing and recording with Boni throughout the years in different configurations. The first recordings were for the Hat Hut label, with Boni and fellow French sax and clarinet player
André Jaume
(
Old Eyes & Mysteries
, 1979;
Topology
, 1981;
Tales and Prophecies
, 1981;
Oleo & Future Retrospective
, 1982) . Foussat recorded McPhee music and the two performed together.
The Paris Concert celebrates the 40th anniversary of the chance meeting at the American Center (now long gone) in Paris. Boni, Foussat and McPhee performed at a private house in Paris before 15 invited guests on May 13, 2015. A lot has changed since the first meeting and as McPhee said: "'The City of Light' strives for a new meaning in a time of great challenge. The world has changed and we all walk naked on a razor's edge". This recording is released as limited-edition of 400 vinyl copies, with download card the features the encore that is not featured on the vinyl version (but is seen in the video below).
Obviously, all three musicians are experienced free-improvisers, but all three offer highly personal approaches to this kind of music of the moment. Boni's guitar lines are rooted in the jazz tradition, angular and sensual, marking possible textures architectures. McPhee's playing is totally free, more provocative, sketching short, poetic ideas, each one can elaborated to an entire composition. Foussat links all with his otherworldly, vintage electronic sounds and noises or his imaginative usage of processed voices, often sounding as a tortured horn. The emphatic, slow-cooking interplay intensifies and gets rougher, even violent, on the second extended piece, "Paris 2". Boni's guitar lines now sound spiky, distorted and fractured, McPhee's fiery blows are fast and dense and Foussat charges this tense commotion with alien, industrial atmosphere. But as the three musicians reach the short, final piece their deep understanding and friendship shines through the music. "Paris 3" still sounds strange, but strange and arresting as a song of some mysterious, rare species of birds. Beautiful and surprising, innocent and frightening, profound but light and rhythmic. Great music of the moment.
---
A l'occasion de la parution d'Agitation Frite, livre de Philippe Robert consacré à l'underground musical français de 1968 à nos jours, le son du grisli publie cette semaine une poignée de chroniques en rapport avec quelques-uns des musiciens concernés en plus de deux entretiens inédits tirés de l'ouvrage...


C'est au Centre Américain de Paris – encore boulevard Raspail, disparu depuis – que Jean-Marc Foussat fit ses premiers essais de synthétiseurs (dans le studio du compositeur Ahmed Essyad) et qu'il entendit pour la première fois Joe McPhee (souffleur qui connaissait l'ARP 2600 pour avoir déjà enregistré avec John Snyder). C'était le milieu des années 1970. Quarante ans plus tard, les deux hommes se retrouvaient en compagnie de Raymond Boni le temps d'une « réunion » et d'une « célébration ».

Ce sont là les noms des deux plages du disque qui nous intéresse : The Paris Concert, enregistrement récent mais qui aurait pu ne pas l'être. Car sur, un écho léger, la guitare électrique évolue discrètement quand le synthétiseur glisse des nappes d'un autre (et bel) âge ; McPhee, quant à lui, s'exprime du bout des lèvres à la trompette, fait tourner un court motif au saxophone quand il ne répond pas à quelques coups donnés par Boni sur sa table d'harmonie par une de ces « ballades en marche » dont il a le secret.

S'il affiche une même distance, le guitariste profite en seconde face du bel art qu'il a de discourir : ses notes, prestes et nombreuses, vont sur la somme – d'autant plus étrange qu'elle est cohérente – que Foussat et McPhee font d'éléments sonores disparates parmi lesquels des voix passées au tamis de tel ou tel instrument s'élèvent. Moins libre qu'hier, plus lâche aussi : une question d'époque, peut-être, qui ne change rien à la qualité de l'association.

Raymond Boni, Jean-Marc Foussat, Joe McPhee : The Paris Concert
KYE
Enregistrement : 2015. Edition : 2016.
LP : A/ Reunion – B/ Celebration
Guillaume Belhomme © Le son du grisli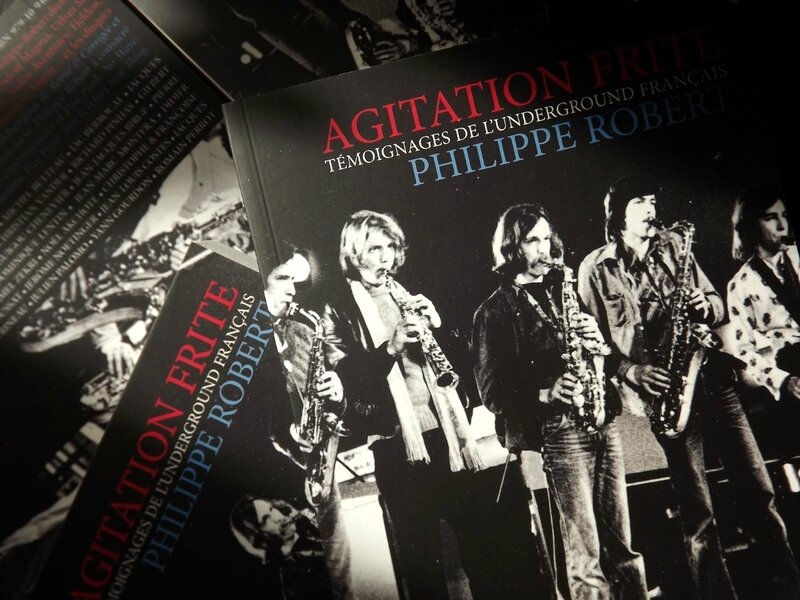 ---